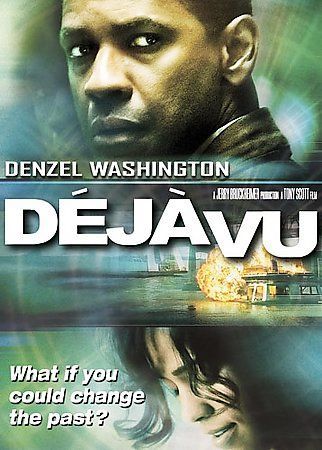 Deja Vu (2006)
Item specifics
Condition:
Good :
Seller Notes:
"

This item is in good working order with only normal signs of wear and tear form previous owner. See photos this is of actual item you will be receiving.

"
Genre:

Action/Adventure

Format:

DVD

Leading Role:

Adam Goldberg, Val Kilmer, Denzel Washington, Paula Patton, Bruce Greenwood, Jim Caviezel

Release Date:

04/24/2007

Director:

Tony Scott

Rating:

PG-13

UPC:

786936705270
Detailed item info
After the success of 2004's MAN ON FIRE, director Tony Scott and Denzel Washington teamed up once again--this time alongside high-powered producer Jerry Bruckheimer--to deliver this big-budget spectacle of an action picture set in post-Katrina New Orleans. The city is delivered another crushing blow when a ferry explodes, killing over 500 innocent citizens. Only this time, nature wasn't the cause of the tragedy. Enter ATF officer Doug Carlin (Washington), who is recruited by a newly formed FBI unit (headed by Val Kilmer) to help track down the killer (a Timothy McVeigh-esque Jim Caviezel). When a body is found floating in the river, it is determined that the victim was murdered before the ferry blast occurred. Unfortunately, the victim was the impossibly beautiful Claire Kuchever (Paula Patton), whose death has begun to torment Carlin. Adding a new level to the investigation is a top-secret FBI invention, which allows a select group to view the past on screen as if it had been videotaped days earlier. The more Carlin sees of Kuchever, the more connected to her he becomes, until he decides to risk his life by traveling back in time and altering the course of history.Plausibility isn't the number one reason to watch a Jerry Bruckheimer movie, and DÉJÀ VU is certainly no exception. This time around, however, Bruckheimer wisely recruited Scott and Washington to bring their expertise to the project. The result is another stylish and atmospheric drama/thriller/romance/action-adventure hybrid, which raises interesting questions as it entertains.


Product Details
Number of Discs:
1
Rating:
PG-13 (MPAA)
Film Country:
USA
UPC:
786936705270
Additional Details
Genre:
Action/Adventure
Format:
DVD
4 stars out of 5 -- "Brimming with emotion and suspense....An electric thriller made by a filmmaker who's left his glitchy toys at home."
Total Film - Jonathan Dean (02/01/2007)


Portions of this page Copyright 1981 - 2014 Muze Inc.

All rights reserved.