Good Morning, Vietnam (DVD, 1998) WIDESCREEN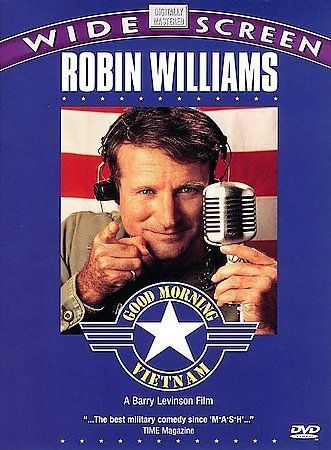 Good Morning, Vietnam (DVD, 1998) WIDESCREEN
Item specifics
Condition:
Good :
Seller Notes:
"

This item is in good working order with only normal signs of wear and tear form previous owner. See photos this is of actual item you will be receiving.

"
Genre:

Comedy

Release Date:

11/10/1998

Leading Role:

Robin Williams

Rating:

R

Director:

Barry Levinson

Edition:

Widescreen

Format:

DVD

UPC:

717951000736
Detailed item info
Set in 1965; Produced and released in 1987.In GOOD MORNING, VIETNAM, which is based on a true story, Cronauer (Robin Williams) is a nonconformist with a wicked sense of humor who is transferred from Crete to Saigon. Outrageous and over the top, Cronauer speaks in accents, creates characters, pokes fun at everyone--including the President--and spins banned rock and roll tunes. While his antics amuse the masses, they also put him in hot water with his superior officers, particularly Lt. Steven Hauk (Bruno Kirby), who would prefer that the radio show be censored, sanitized, and completely noncontroversial. Cronauer takes his show outside the radio station when he starts to teach Vietnamese locals English in an effort to meet pretty, demure Trinh (Chintara Sukapatana). He befriends Trinh's brother, Tuan (Tung Thanh Tran), who becomes an unlikely comrade in uncertain times. Directed by Barry Levinson (DINER, AVALON), the film features a tour-de-force performance from Williams, who improvised much of the comedy used in the radio shows, earning an Academy Award nomination for Best Actor.


Product Details
Number of Discs: 1
Rating: R (MPAA)
Film Country: USA
Features: Letterboxed
Sound: HiFi Sound, Stereo Sound
UPC: 717951000736
Additional Details
Genre:
Comedies
Format:
DVD
"...Williams is an extraordinary performer..."
Sight and Sound - Anthony Quinn (06/01/1988)

"...Exceptionally strong....Williams's performance, though it's full of uproarious comedy, is the work of an accomplished actor. GOOD MORNING, VIETNAM is one man's tour de force..."
New York Times - Vincent Canby (12/23/1987)

Rating: B+
Entertainment Weekly - Robin F. Schwartz (09/06/1996)

"...GOOD MORNING, VIETNAM is pure Robin Williams vehicle and gives the performer his best chance yet to display his manic talent on screen. It's an impressive act..."
Variety - Jagr. (12/23/1987)

"...Williams at the mike is like a man possessed, purified, liberated. Startling chains of ideas and wild leaps of imagery pour out of him..."
Los Angeles Times - Michael Wilmington (12/25/1987)


Portions of this page Copyright 1981 - 2014 Muze Inc.

All rights reserved.