The Original Kings of Comedy (DVD, 2001, Sensormatic)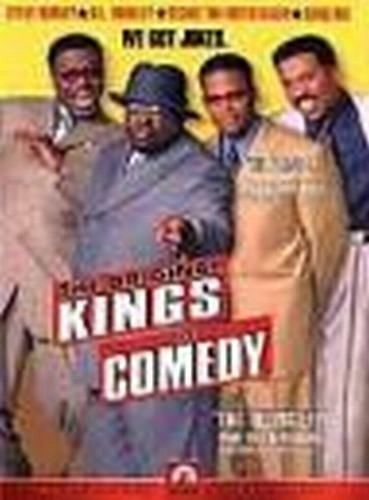 The Original Kings of Comedy (DVD, 2001, Sensormatic)
Item specifics
Condition:
Genre:

Comedy

Rating:

R

Leading Role:

Cedric the Entertainer, Bernie Mac, D.L. Hughley, Steve Harvey

Region Code:

DVD: 1

Director:

Shelton Jackson Lee, Spike Lee

Edition:

Widescreen

Format:

DVD

Former Rental:

No

Release Date:

02/20/2001

UPC:

097363392446
Detailed item info
When four of the world's funniest black stand-up comics came together to celebrate their crownings as the "Kings of Comedy," acclaimed filmmaker Spike Lee decided to film two of their most memorable shows. The result is THE ORIGINAL KINGS OF COMEDY, a raucous concert film that takes its cue from classic performers such as Richard Pryor and Eddie Murphy. The host of the evening, Steve Harvey, spends most of his time criticizing modern music--namely hip-hop--for forgetting to include love in its songs, missing the days when black music was passionate and romantic. D.L. Hughley focuses on universal topics such as work, as well as taking his time to criticize certain unfortunate audience members. Cedric "The Entertainer" makes a series of clever points about the differences between white and black people in addition to using his large frame to dance and run around the stage to hilarious effect. Capping off the film is Bernie Mac, a frustrated 42-year-old who is sick of sex and believes that people should tell it like it is, no matter whom they might offend. As funny as each individual is, they also take the time to make poignant observations about race, relationships, and popular culture, giving the film a sincerity that is truly refreshing.


Product Details
Edition: Sensormatic
Number of Discs: 1
Rating: R (MPAA)
Film Country: USA
Features: Letterboxed
Sound: HiFi Sound, Stereo Sound, Surround Sound
UPC: 097363392446
Additional Details
Genre:
Comedies
Format:
DVD
Display Format:
Sensormatic
"...Their comedy gives audiences that have never seen anything like it a hilarious window on a new world....There's an energy that comes from their rapport with their crowd..."
New York Times - Elvis Mitchell (08/18/2000)

"Spike Lee does more than merely film a concert....A laugh riot..." -- 3.5 out of 4 stars
USA Today - Mike Clark (08/18/2000)

"...Sly and hilarious moments..."
Entertainment Weekly - Owen Gleiberman (09/01/2000)

"...It's a worthwhile artifact and a hoot..."
Total Film - Dorian Lynskey (01/01/2000)

"...A dynamite film concert....The convergence of these sensational comedians is reason enough to film them in performance on the same bill..."
Los Angeles Times - Kevin Thomas (08/18/2000)


Portions of this page Copyright 1981 - 2014 Muze Inc.

All rights reserved.