40 Days and 40 Nights (DVD, 2002)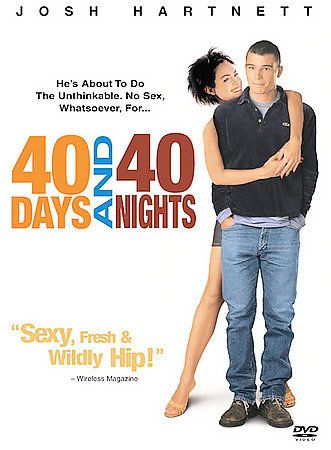 40 Days and 40 Nights (DVD, 2002)
Item specifics
| | | | |
| --- | --- | --- | --- |
| Condition: | | Genre: | Comedy |
| Format: | DVD | Leading Role: | Josh Hartnett |
| Release Date: | 09/17/2002 | Director: | Michael Lehmann |
| Rating: | R | UPC: | 786936180862 |
Detailed item info
Matt (Josh Hartnett) is having a hard time moving on six months after his relationship with bombshell Nicole (Vinessa Shaw) ended. He finds himself involved in empty physical relationships that are unfulfilling and ultimately send him fleeing. His solution is to give up sex and anything sexual for the 40 days of Lent. Initially, Matt is empowered by his decision--until he meets stunning Erica (Shannyn Sossamon), the girl of his dreams, at the local laundromat. Erica doesn't know about Matt's vow of abstinence, which impacts their budding relationship. To complicate matters more, Matt's co-workers are determined to literally put their two cents in as well by establishing a betting pool about how long Matt can keep his vow. Hartnett is endearing as the clumsy Matt, who desperately wants to do the right thing. Griffin Dunne stars as Matt's sex-starved boss. Also starring Paulo Costanzo and Maggie Gyllenhaal, the film was produced by Tim Bevan and Eric Fellner, the team that made NOTTING HILL and BRIDGET JONES' DIARY, and directed by Michael Lehmann (HEATHERS). The city of San Francisco provides a beautiful backdrop to this modern look at love that includes a touch of crude teen-movie humor.


Product Details
Number of Discs: 1
Rating: R (MPAA)
Film Country: USA
Features: Letterboxed
UPC: 786936180862
Additional Details
Genre:
Comedies
Format:
DVD
"...40 DAYS AND 40 NIGHTS gets better as it goes along mostly because of Josh Hartnett, with his hurtin' James Dean stare, does something unexpectedly charming..."
Entertainment Weekly - Owen Gleiberman (03/08/2002)

"...Hartnett is the film's star through and through, and he reveals his versatility..."
Los Angeles Times - Kevin Thomas (03/01/2002)

"...Hartnett is well cast..."
Sight and Sound - Keith Perry (06/01/2002)

"...Hartnett shows here a breezy command of his charming, likable character. It is a reminder of his talent and versatility..."
Chicago Sun-Times - Roger Ebert (03/01/2002)

"...Funny, sexy and silly....Shaw sizzles....The song-dominated score is lively..."
Variety - Todd McCarthy (02/25/2002)


Portions of this page Copyright 1981 - 2014 Muze Inc.

All rights reserved.