Bad Company (DVD, 2002) Widescreen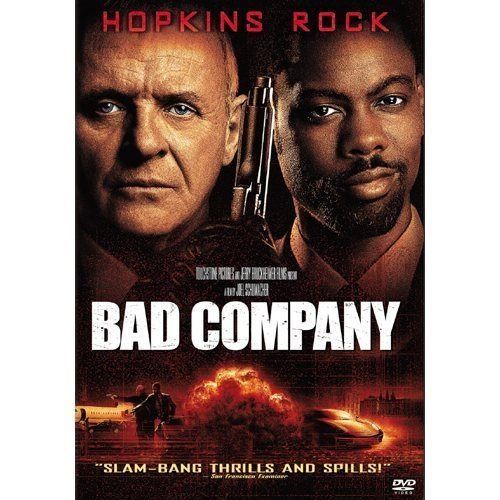 Bad Company (DVD, 2002) Widescreen
Item specifics
Condition:
Genre:

Comedy

Release Date:

11/12/2002

Leading Role:

Anthony Hopkins, Chris Rock

Rating:

PG-13

Director:

Joel Schumacher

Region Code:

DVD: 1

Format:

DVD

Former Rental:

No
Detailed item info
Anthony Hopkins and Chris Rock join up in the action-packed buddy movie BAD COMPANY. When CIA undercover operative Kevin Pope is killed during tense negotiations for a nuclear weapon, agent Gaylord Oakes (Hopkins) recruits the man's twin brother, Jake Hayes (Rock), to take his place and prevent the bomb from getting into the wrong hands. The problem is that Hayes, a streetwise kid who scalps tickets and hustles people playing chess in the parks, didn't even know he had a twin--and now he has only nine days to learn to impersonate his impeccably dressed, well-educated, well-trained agent brother. Rock is funny in this fish-out-of-water story as Hopkins tries desperately to transform him--something he considers to be an impossible mission.Joel Schumacher, the director of such well-regarded films as TIGERLAND and FALLING DOWN, ups the action quotient as Oakes and Hayes and their determined crew (including Gabrielle Macht) travel to locations ranging from Prague to New York to save the world. Garcelle Beauvais-Nilon, from NYPD Blue, plays Hayes' love interest, and Peter Stormare is the evil Vas. Hopkins and Rock make a great pair; Hayes is as loose as a goose, and Oakes is as tight as a drum. But as they get to know each other--and get thrown into dangerous situation after dangerous situation--they both discover a little something about life and love.


Product Details
Number of Discs: 1
Rating: PG-13 (MPAA)
Film Country: USA
Features: Letterboxed
UPC: 786936052688
Additional Details
Genre:
Comedies
Format:
DVD
"...Rock is a pleasantly fluid, flexible entertainer....His vibrant cadences create a sweet street melody..."
Sight and Sound - Ryan Gilbey (08/01/2002)


Portions of this page Copyright 1981 - 2014 Muze Inc.

All rights reserved.