Bad Santa (DVD, 2004, Badder Santa: The Unrated Version)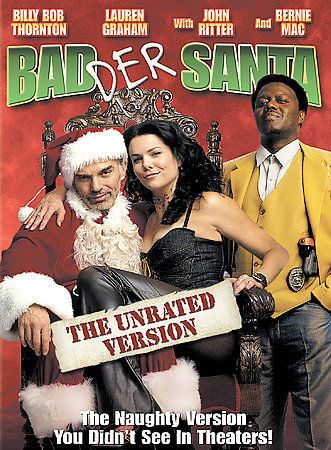 Bad Santa (DVD, 2004, Badder Santa: The Unrated Version)
Item specifics
| | | | |
| --- | --- | --- | --- |
| Condition: | | Genre: | Comedy |
| Format: | DVD | Leading Role: | Billy Bob Thornton, Bernie Mac, Lauren Graham |
| Release Date: | 06/22/2004 | Director: | Terry Zwigoff |
| Rating: | Unrated | UPC: | 786936245042 |
Detailed item info
Billy Bob Thornton is terrific as Willie T. Stokes, a lowlife department-store Santa in Terry Zwigoff's outrageous comedic follow-up to his offbeat hit GHOST WORLD. Every year, Stokes takes a job as Santa in a different place in order to rob the store he's working in. The diminutive Tony Cox plays his horny sidekick, Marcus, the real mastermind, who is even more foulmouthed than Stokes. Brett Kelly is Thurman Merman, an eight-year-old who desperately needs to believe in the real Santa Claus--and just might have a good enough heart to change Stokes's evil ways. Or maybe not. And Lauren Graham plays Sue, a young sexpot who wants to get a different kind of gift from Santa. Providing excellent comic relief in this black comedy is John Ritter, in his last film role, as the mousy mall manager, and Bernie Mac as Gin, the mall security guard who suspects something is not right. Be warned--BAD SANTA is not a family holiday movie. It is lewd, crude, and very funny, but it is most definitely not for children. Joel and Ethan Coen, the brothers behind such quirky hits as RAISING ARIZONA and BARTON FINK, are the executive producers who came up with the idea in the first place, influenced by the likes of THE BAD NEWS BEARS and SOUTH PARK.


Product Details
Edition: Badder Santa: The Unrated Version
Number of Discs: 1
Rating: Unrated
Film Country: USA
UPC: 786936245042
Additional Details
Genre:
Comedies
Format:
DVD
Display Format:
Badder Santa: The Unrated Version
"...An achingly funny and corrupt dark comedy....Mr. Zwigoff has a taste for finding the dramatic power of self-loathing and making it entertainment..."
New York Times - Elvis Mitchell (11/26/2003)

"...It unapologetically exults in its characters' glorious imperfection..."
Los Angeles Times - Manohla Dargis (11/26/2003)

"...Billy Bob Thornton is sinfully funny....As slime personified, he's sublime..."
Rolling Stone - Peter Travers (12/11/2003)

"There are 50 times more laughs here than in THE CAT IN THE HAT."
USA Today - Mike Clark (12/05/2003)

"BAD SANTA is a demented, twisted, unreasonably funny work of comic kamikaze style."
Chicago Sun-Times - Roger Ebert (11/26/2003)

"BAD SANTA is a towering achievement: a dark, profane comedy about everything that's both right and wrong with the season of goodwill. Essential, dark-hearted Yuletide viewing for misanthropes everywhere."
Uncut - Andrew Sumner (12/01/2004)

"Transgressive-comedy heaven."
Movieline's Hollywood Life - Michael Atkinson (07/01/2004)


Portions of this page Copyright 1981 - 2014 Muze Inc.

All rights reserved.