Blade (DVD, 1998, Platinum Edition)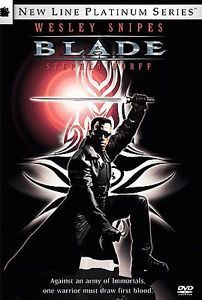 Blade (DVD, 1998, Platinum Edition)
Item specifics
| | | | |
| --- | --- | --- | --- |
| Condition: | | Genre: | Horror |
| Format: | DVD | Leading Role: | Wesley Snipes |
| Release Date: | 06/25/2013 | Director: | Stephen Norrington |
| Rating: | R | UPC: | 883929351725 |
Detailed item info
Based on the comic book of the same name, BLADE (Snipes) is a half-mortal, half-immortal bent on avenging his mother's death and destined to rid the earth of a race of vampires. Meanwhile, the modern-day technologically advanced vamps he's targeted are in pursuit of his special blood type needed to summon an evil god who plays a key role in their plan to execute the human race. A dark action thriller from the director of DEATH MACHINE and the writer of THE CROW: CITY OF ANGELS and DARK CITY with plenty of blood and guts.


Product Details
Edition:
With Movie Money
Number of Discs:
1
Rating:
R (MPAA)
Film Country:
USA
UPC:
883929351725
Additional Details
Genre:
Horror/Suspense
Format:
DVD
Display Format:
With Movie Money
"...BLADE's design team have constructed a consistent universe and taken it seriously....Told respectfully and well..."
Sight and Sound - Andrew O'Hehir (11/01/1998)

"...Pulsing with a techno beat..."
USA Today - Mike Clark (09/25/1998)

"...The battle scenes are pure comic-book derring-do replete with acrobatics borrowed from Hong Kong action thrillers and continual morphing..."
New York Times - Stephen Holden (08/21/1998)


Portions of this page Copyright 1981 - 2014 Muze Inc.

All rights reserved.