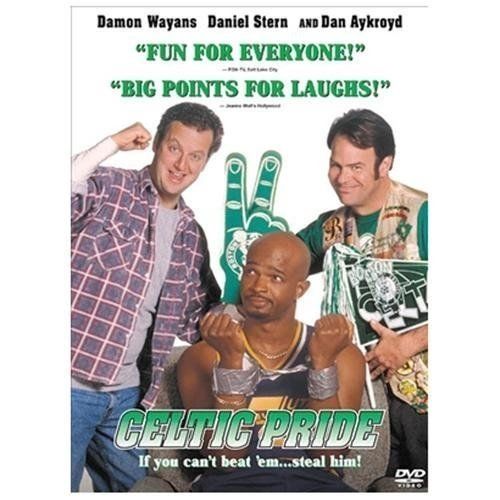 Celtic Pride (DVD, 2002)
Item specifics
Condition:

Good

:
Seller Notes:
"

This item is in good working order with only normal signs of wear and tear form previous owner. See photos this is of actual item you will be receiving.

"
Genre:

Comedy

Release Date:

09/03/2002

Leading Role:

Damon Wayans

Rating:

PG-13

Director:

Tom De Cerchio

Country of Manufacture:

United States

Format:

DVD

UPC:

786936188141
Detailed item info
A pair of die-hard Boston Celtics fans accidentally-on-purpose kidnap the star of the rival Utah Jazz the night before Game 7 of the NBA championship series in this madcap comedy. Having intended simply to get him too drunk to play the next day, the loudmouth simpletons wake up with a bound, gagged--and angry--hoopster in their apartment. He shoots, he scores!


Product Details
Number of Discs: 1
Rating: PG-13 (MPAA)
Film Country: USA
Features: Letterboxed
UPC: 786936188141
Additional Details
Genre:
Comedies
Format:
DVD
"...Terminal sports junkies and their spouses will greet Celtic Pride with knowing nods..."
USA Today - Mike Clark (04/19/1996)

"...Coarsely effective....Hoops fans...will get some laughs..."
Entertainment Weekly - Michael Sauter (10/18/1992)

"...Likable....Stern and Aykroyd play well off each other..."
Variety - Joe Leydon (04/22/1996)


Portions of this page Copyright 1981 - 2014 Muze Inc.

All rights reserved.