Confessions of a Teenage Drama Queen (DVD, 2004)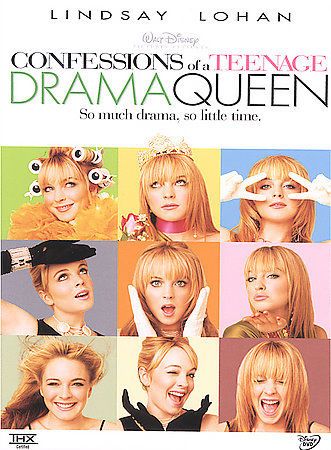 Confessions of a Teenage Drama Queen (DVD, 2004)
Item specifics
| | | | |
| --- | --- | --- | --- |
| Condition: | | Genre: | Comedy |
| Format: | DVD | Leading Role: | Lindsay Lohan |
| Release Date: | 07/20/2004 | Director: | Sara Sugarman |
| Rating: | PG | UPC: | 786936243437 |
Detailed item info
Moving to the suburbs proves tougher than Lola (Lindsay Lohan) expected in this delightful teen comedy from director Sara Sugarman. Suddenly catapulted into the mall-dwelling teenage wilderness of New Jersey, New York City girl Lola feels like her life has come to an abrupt halt. Longing for a return to the bright lights of the metropolis, her only salvation from the monotony of suburban life is the music of her favorite rock band, Sidarthur. Fortunately for Lola, she meets Ella (Alison Pill), a fellow Sidarthur fan, who provides a modicum of intelligent life amongst the scornful cliques running rampant throughout her high school. However, Lola's big-city attitude puts her in a heap of trouble, especially when she crosses paths with the most popular girl in school, Carla (Megan Fox). Keen to usurp Carla from her high-and-mighty position, Lola sets out to take the much-desired lead in the school play, a position her archrival desperately covets. But when Sidarthur announces it is breaking up and playing a sold-out farewell show in New York City, a ticketless Lola makes it her mission to travel back to her own personal Mecca, see the performance, and meet her number one crush, singer Stu Wolff (Adam Garcia). With Carla hot on her heels, and in possession of a ticket for the concert, the frantic and frequently funny story arc builds nicely towards its conclusion in this bubbly coming-of-age tale.


Product Details
Number of Discs: 1
Rating: PG (MPAA)
Film Country: USA
UPC: 786936243437
Additional Details
Genre:
Comedies
Format:
DVD
"Tweeners will love her."
New York Times - Dave Kehr (02/20/2004)

"Lola's dramas and daydreams are frequently illustrated by whimsical fantasy sequences..."
Box Office - Christine James (04/01/2004)

"Lindsay Lohan could be a one-gal BREAKFAST CLUB....CONFESSIONS proves that this drama queen is perfectly comfortable driving her own vehicle."
Entertainment Weekly - Timothy Gunatilaka (07/23/2004)

"A movie as funny and sharply exuberant as this Disney production is welcome any time."
Los Angeles Times - Kevin Thomas (02/20/2004)


Portions of this page Copyright 1981 - 2014 Muze Inc.

All rights reserved.