Down to Earth (DVD, 2001, Widescreen Collection)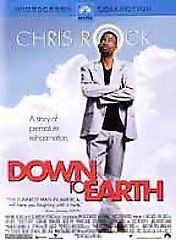 Down to Earth (DVD, 2001, Widescreen Collection)
Item specifics
| | | | |
| --- | --- | --- | --- |
| Condition: | | Genre: | Comedy |
| Format: | DVD | Leading Role: | Chris Rock |
| Release Date: | 07/10/2001 | Director: | Chris Weitz, Paul Weitz |
| Rating: | PG-13 | UPC: | 097363377849 |
Detailed item info
Comedian Chris Rock updates 1978's HEAVEN CAN WAIT with a decidedly modern flair in this romantic comedy. Lance Barton (Rock) is a struggling comedian whose dream is to perform at New York City's legendary Apollo Theater before it closes its doors forever. One night, while riding his bike, Lance is crushed by an enormous truck. Before he can come to terms with what has happened, he is strolling through Heaven, talking to the smooth Mr. King (Chazz Palminteri) and the bumbling Keyes (Eugene Levy), the angel who prematurely snatched Lance away from Earth. Mr. King agrees to make up for this mistake by returning Lance to New York, only instead of being a black bike messenger, Lance is now Mr. Wellington, a powerful white businessman who just so happens to be the enemy of Sontee (Regina King), the woman he has become infatuated with. Wooing Sontee with a new commitment to using Mr. Wellington's money philanthropically, Lance embarks on a mission to perform at the Apollo, even if he doesn't seem to fit the mold. But just when everything begins to fall into place, Mr. King returns to throw another glitch into Lance's plans. Coasting along on the charm of Rock and King, DOWN TO EARTH is a charming story about the power of fate, set to a bouncing hip-hop soundtrack.


Product Details
Edition: Widescreen Collection
Number of Discs: 1
Rating: PG-13 (MPAA)
Film Country: USA
Features: Letterboxed
Sound: Stereo Sound, Surround Sound
UPC: 097363377849
Additional Details
Genre:
Comedies
Format:
DVD
Display Format:
Widescreen Collection
"...Affable..."
USA Today - Mike Clark (02/16/2001)

"...It's fun to see one of the sharpest, most fearless comics working today impersonating a flop..."
Entertainment Weekly - Lisa Schwarzbaum (03/02/2001)

"...There are some neat bits of humour....Entertaining, deft..."
Sight and Sound - Kim Newman (07/01/2001)


Portions of this page Copyright 1981 - 2014 Muze Inc.

All rights reserved.