Dual 12in Subwoofer Box and Speakers 1 Kenwood & 1 M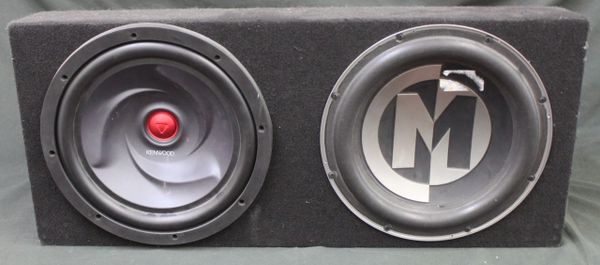 Dual 12in Subwoofer Box and Speakers 1 Kenwood & 1 M
Item details
Category

Qty Available

Only one in stock, order soon

Condition

Used

Number Of Ports

Double

Speaker Size

12"
More about this item
Product Highlights:
· Ported Enclosure With Two 12" Subwoofers
· Medium-density fiberboard construction covered with carpet
· 30"W x 13"H x 13"D1 x 7"D2
Two Hard-Hitting Subs
Each 12" Sub features a flex-resistant polypropylene cone for hard-hitting lows without distortion, with a ribbed foam surround that promotes long excursion and helps to keep the cones on target. A heavy-duty steel basket provides a reliable foundation for big bass, and extensive venting ensures long-lasting performance that won't break down when the bass gets heavy.
Heavy-duty enclosure
Sturdy medium-density fiberboard ensures long-lasting performance from the enclosure, and the special-design side port delivers more bass without getting sloppy.
PICK UP ONLY!!!
PICK UP LOCATION
UPLAND CA