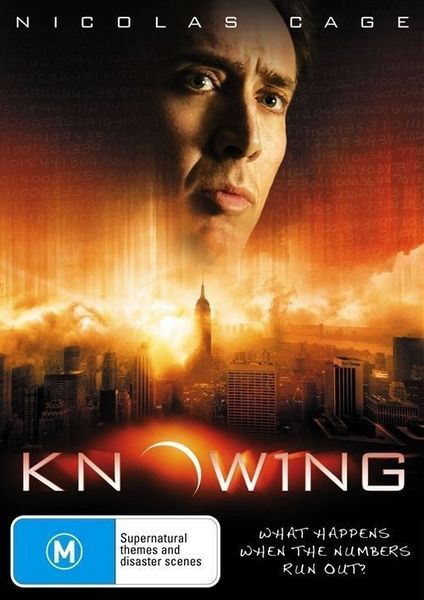 Knowing (DVD, 2009)
Item specifics
Condition:
Good :
Seller Notes:
"

This item is in good working order with only normal signs of wear and tear form previous owner. See photos this is of actual item you will be receiving.

"
Region Code:

DVD: 4 (AU, NZ, Latin America...)

Language:

English

Genre:

Thriller

Director:

Alex Proyas

Format:

DVD

Special Features:

Audio Commentary with director Alex Proyas

Rating:

M

Edition:

Subtitles, Widescreen

UPC:

9339065002034
Detailed item info
Product Information
Academy Award winner Nicolas Cage (National Treasure 2, Leaving Las Vegas) stars in KNOWING, the next gripping action-thriller of global proportions from Australian visionary Alex Proyas (I, Robot, The Crow). When a professor stumbles on a set of coded numbers, written in 1959 and buried in a time capsule at his son's school, he makes a startling discovery. The cryptic message predicts every major disaster of the past 50 years and holds chilling predictions about future catastrophesthe last of which hints at destruction on a global scale. Rose Byrne (Troy, Two Hands), Ben Mendelsohn (Australia, 'Love My Way') and Chandler Canterbury (The Curious Case of Benjamin Button) also star in this riveting feature about a fathers desperate battle to save his childand the world.


Product Identifiers
APN
9339065002034
Title
Knowing
Format
DVD
Product Release Date
15/07/2009


Key Feaures
Theatrical Release Year
2008
Number of Discs
1
Actors
Adrienne Pickering, Alan Hopgood, Ben Mendelsohn, Chandler Canterbury, D.G. Maloney, Danielle Carter, Gareth Yuen, Lara Robinson, Lesley Anne, Mitchell Liam Hemsworth, Nadia Townsend, Nicolas Cage, Rose Byrne
Directors
Alex Proyas
Rating
M
Rating Info
Disaster Scenes, Supernatural Themes
Language
English
Run Time
121 minutes


Theatrical Information
Primary Genre
Thriller
Sub Genre
Fantasy


Technical Information
Aspect Ratio
2.35:1
Main Audio Type
DTS 5.1
Video Format
PAL


Tag Line
Tag Line
What Happens When The Numbers Run Out?


Data provided by:

All rights reserved