Mission: Impossible III (DVD, 2006, Full Screen)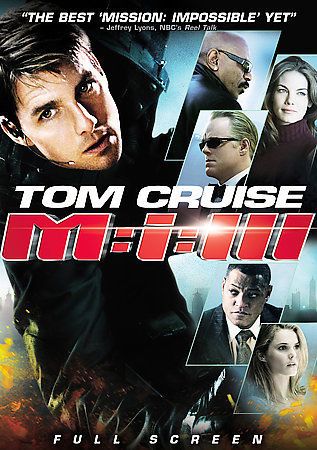 Mission: Impossible III (DVD, 2006, Full Screen)
Item specifics
| | | | |
| --- | --- | --- | --- |
| Condition: | | Genre: | Action/Adventure |
| Rating: | PG-13 | Leading Role: | Laurence Fishburne, Tom Cruise, Sasha Alexander, Ving Rhames, Billy Crudup |
| Region Code: | DVD: 1 | Director: | Jeffrey Abrams |
| Edition: | Full Screen | Format: | DVD |
| Former Rental: | No | Release Date: | 10/30/2006 |
Detailed item info
IN THEATERS MAY 5, 2006The third installment of Tom Cruise's blockbuster hit co-stars Billy Crudup and Ving Rhames., J.J. Abrams, creator of small-screen hits ALIAS and LOST, makes his feature film debut with the third installment of this successful series based on the hit 1960s television show. Secret Agent Ethan Hunt (Tom Cruise) has decided to take it easy and lead a somewhat normal life. He's even found his perfect woman, Julia (Michelle Monaghan), and is engaged. But when newbie agent Lindsey Farris (Keri Russell)--whom Hunt mentored--goes missing while on assignment, the reluctant agent finds himself back in business. Soon, with his old buddy Luther (Ving Rhames) in tow, along with team members Zhen (Maggie Q) and Declan (Jonathan Rhys Meyers), Hunt is traversing the globe on the trail of Farris's captor, Owen Davian (Philip Seymour Hoffman), an elusive international weapons dealer. The stakes increase when the villainous Davian gets a hold of Hunt's fiancée and uses her as a bargaining chip.A raucous combination of spectacular chases, explosions, amazing stunts, and elaborate schemes takes the Impossible Mission Force (IMF) team to Berlin, the Vatican, and Shanghai. With fascinating hi-tech tools these secret agents can impersonate virtually anyone, scale walls in an instant, infiltrate the tightest security system, and blow up the evidence when they're done. But facing their most formidable foe ever, Hunt and his fellow agents are fighting the clock to keep Julia alive and get Davian the mysterious weapon he is demanding. Cruise's personal involvement in the stunts lends a nice air of authenticity to Hunt, who also shows his emotional side in this outing as he juggles his secret life and his new love, as well as possible betrayal by someone inside the IMF. Laurence Fishburne also stars as IMF's Director Brassel, and Billy Crudup appears as his somewhat timid right-hand man, Musgrave.


Product Details
Edition: Single Disc; Full Screen
Number of Discs: 1
Rating: PG-13 (MPAA)
Film Country: USA
UPC: 097361184548
Additional Details
Genre:
Action/Adventure
Format:
DVD
Display Format:
Single Disc; Full Screen
"[S]olidly crafted entertainment, a diversion that really diverts once it gets down to business."
Los Angeles Times - Kenneth Turan (05/05/2006)

"[A] gratifyingly clever, booby-trapped thriller that has enough fun and imagination and dash to more than justify its existence..." -- Grade: B+
Entertainment Weekly - Owen Gleiberman (05/12/2006)

"It's about energy, excitement and exotic locales, in this case Rome, Shanghai and Berlin....The stunts are top-notch..."
USA Today - Claudia Puig (05/05/2006)

4 stars out of 5 -- "Inspired by Bourne, Bond and Bauer, MI:III re-sets the bar for all of the upstarts."
Total Film - Andy Lowe (07/01/2006)

"[Hoffman] steals absolutely every moment he's onscreen."
Box Office - Cheryl Scheuer (06/01/2006)

"Abrams attacks the action scenes with a gritty occasionally naturalistic approach, ripping along at pace..."
Sight and Sound - Demetrios Matheou (07/01/2006)

"[T]his threequel offers up some top-notch action thanks to director JJ Abrams."
Ultimate DVD - Chris Prince (08/01/2006)

3 stars out of 4 -- "[Hoffman delivers] deliciously vile fun as the villain of the piece..."
Rolling Stone - Peter Travers (11/20/2006)

3.5 stars out of 4 -- "J.J. Abrams brings his keen eye for glossy danger at a relentless pace....Cruise remains a master at selling a story."
Premiere - Claire Evans (12/01/2006)


Portions of this page Copyright 1981 - 2014 Muze Inc.

All rights reserved.