Murder by Numbers (DVD, 2002, Widescreen)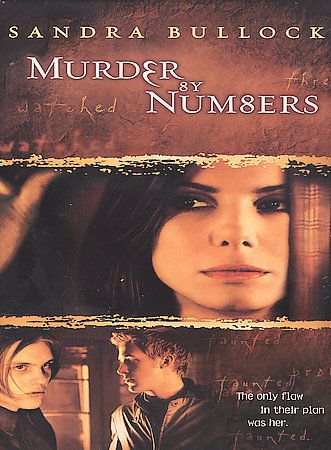 Murder by Numbers (DVD, 2002, Widescreen)
Item specifics
| | | | |
| --- | --- | --- | --- |
| Condition: | | Genre: | Drama |
| Format: | DVD | Leading Role: | Sandra Bullock |
| Release Date: | 09/24/2002 | Director: | Barbet Schroeder |
| Rating: | R | UPC: | 085392330522 |
Detailed item info
When the dead body of a woman is found in the woods near the river, feisty homicide detective Cassie Mayweather (Sandra Bullock) and her new partner, Sam Kennedy (Ben Chaplin) are assigned to the case. That's the premise for MURDER BY NUMBERS, a psychological thriller directed by Barbet Schroeder (REVERSAL OF FORTUNE, SINGLE WHITE FEMALE). Determined to solve the crime, Mayweather follows her hunches and microscopic bits of evidence, focusing her investigation on two teens: Justin Pendleton (Michael Pitt), a brilliant, misunderstood nerd, and Richard Haywood (Ryan Gosling), a smooth talking, spoiled rich kid. From the beginning, the audience knows that this unlikely duo has formed a secret bond that pushes the boundaries of morality and the law in their attempt to commit the perfect murder and experience complete freedom. It's up to Mayweather, who buries herself in her work in an attempt to forget her own tormented past, and Kennedy, a transfer from Vice who is working his first homicide case, to ignore the stereotypical profiles and see past the obvious in order to solve the crime. Slowly but surely, the truth comes out as Mayweather works on instinct while battling her own demons and being drawn into the boys' game of cat-and-mouse.


Product Details
Edition: Widescreen
Number of Discs: 1
Rating: R (MPAA)
Film Country: USA
Features: Letterboxed
Sound: HiFi Sound, Stereo Sound, Surround Sound
UPC: 085392330522
Additional Details
Genre:
Dramas
Format:
DVD
Display Format:
Widescreen
"...It's very expertly directed; Ryan Gosling and Michael Pitt give superb performances..."
Box Office - Bridget Byrne (06/01/2002)

"...Engrossing....Marked by strong performances....Handsomely lensed..."
Variety - Todd McCarthy (04/15/2002)

"...There's a kind of fascination in seeing the jigsaw puzzle fall into place....Bullock does a good job of working against her natural likability..."
Chicago Sun-Times - Roger Ebert (04/19/2002)

"...The psychological drama boasts Sandra Bullock's best performance since early days of WRESTLING ERNEST HEMINGWAY and SPEED..."
USA Today - Mike Clark (09/27/2002)


Portions of this page Copyright 1981 - 2014 Muze Inc.

All rights reserved.