Once Upon a Time in Mexico (DVD, 2004)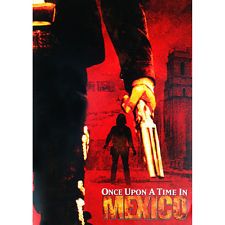 Once Upon a Time in Mexico (DVD, 2004)
Item specifics
Condition:
Region Code:

DVD: 4 (AU, NZ, Latin America...)

Language:

English

Genre:

Action/Adventure

Director:

Robert Rodriguez

Format:

DVD

Special Features:

Directors Commentary, Filmographies-Cast & Crew, Theatrical Trailer, Deleted Scenes: 8, With Optional Commentary, Featurette: Inside Troublemaker Studios, Featurette: The Good, The Bad And The Bloody: Inside KNB Fx, Featurette: Film Is Dead: An Evening With Robert Rodriguez, Featurette: The Anti-Hero's Journey, Featurette: Ten Minute Flick School, Featurette: Ten Minute Cooking School, DVD-ROM Extras

Rating:

MA

UPC:

9317731017841
Detailed item info
Product Information
Cult director Robert Rodriguez's long-awaited follow-up to Desperado is the epic final chapter in his El Mariachi trilogy. With Antonio Banderas, Salma Hayek and a killer performance from Johnny Depp, Once Upon a Time In Mexico is hot, sexy, savage and funny an 'over-the-top opera of action mayhem' hot from cinemas and destined to be one of the years biggest hits. Boasting an impressive array of special features, from 8 never-before-seen deleted scenes, behind-the-scenes features, short films as well as DVD-Rom features, this is a hot n' spicy action adventure Collector's Edition DVD release featuring a to-die-for A-list cast that is worth the wait.


Product Identifiers
APN
9317731017841
Title
Once Upon A Time In Mexico
Format
DVD
Product Release Date
23/06/2004


Key Feaures
Theatrical Release Year
2003
Number of Discs
1
Actors
Antonio Banderas, Cheech Marin, Danny Trejo, Enrique Iglesias, Eva Mendes, Johnny Depp, Marco Leonardi, Mickey Rourke, Ruben Blades, Salma Hayek, Willem Dafoe
Directors
Robert Rodriguez
Rating
MA
Rating Info
Medium Level Violence
Language
English
Run Time
97 minutes


Theatrical Information
Primary Genre
Action/Adventure
Studio
Sony Pictures


Tag Line
Tag Line
The Time Has Come.


Data provided by:

All rights reserved