Radio Cuba Gooding, Jr. (DVD, 2004, )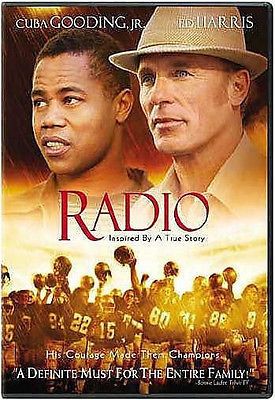 Radio Cuba Gooding, Jr. (DVD, 2004, )
Item specifics
Condition:

Good

:
Seller Notes:
"

This item is in good working order with only normal signs of wear and tear form previous owner. See photos this is of actual item you will be receiving.

"
Genre:

Drama

Format:

DVD

Leading Role:

Cuba Gooding Jr., Ed Harris

Release Date:

01/27/2004

Director:

Michael Tollin

Rating:

PG

UPC:

043396013070
Detailed item info
Set in South Carolina and spanning almost 40 years time beginning in the 1960s, RADIO is the moving story of the friendship between a mentally disabled man (played by Cuba Gooding Jr. in adulthood) and the high school football coach (Ed Harris) who gives him guidance, hope, and confidence. Growing up in the all-American small town of Anderson, South Carolina, "Radio" is a social outcast who lives a lonely, childish existence. He's obsessed with his transistor radio and wanders the streets with a shopping cart full of collected junk. Because of his mental disability, Radio is misunderstood by the local townspeople and is often the victim of mean-spirited pranks. After the local high school football team plays a particularly cruel prank on the naive young man, the team coach decides to mentor Radio. Coach Jones staunchly supports Radio and their bond becomes unbreakable. A devoted football fan, Radio blossoms under the unwavering encouragement of the Coach and becomes the team's unofficial mascot and cheerleader. Ultimately the town is united by Radio's innocence and basic human goodness in this warmhearted drama inspired by a true story.


Product Details
Number of Discs: 1
Rating: PG (MPAA)
Film Country: USA
UPC: 043396013070
Additional Details
Genre:
Dramas
Format:
DVD
"...In the quietly affecting RADIO, Ed Harris rises to the occasion..."
Los Angeles Times - Kevin Thomas (10/24/2003)

"This is really Ed Harris' show...and the actor gives a fine, subtle performance..."
Premiere - Premiere Staff (03/01/2004)

"A sweet expression of the better side of human nature."
Chicago Sun-Times - Roger Ebert (10/24/2003)


Portions of this page Copyright 1981 - 2014 Muze Inc.

All rights reserved.