Recessed LED Edge-Lit Green Sign Exit Sign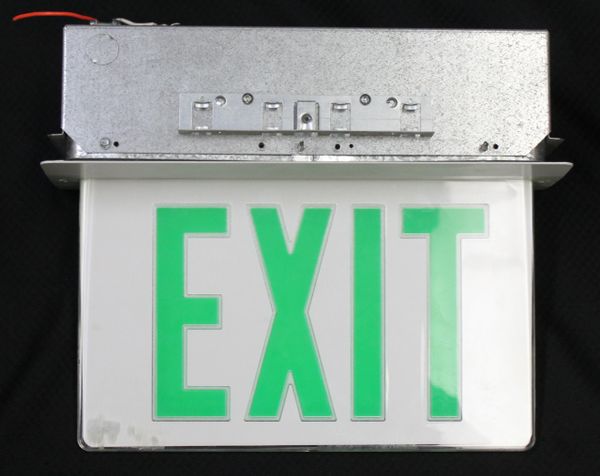 Recessed LED Edge-Lit Green Sign Exit Sign
Housing:
Compact and decorative design. Etched, clear acrylic edge lit panel. Letters 6" height with stoke. Steel housing and trim plate.

Operation:
120/277 VAC dual voltage operation. Low energy consumption-only 3 watts at 120 V. LED indicator light and test switch.

Battery:
Nickel-Cadmium battery (4.8V 650mA) delivers more than 3 hours capacity to emergency lamps. 24 hours recharge after 90 minutes discharge. Low voltage battery disconnection-Preventing deep discharge damage to the battery.

Lamp:
LEDs mounted on printed circuit board. LED lamps are operational in normal (AC input) and emergency (DC input) modes.

Mounting:
Recessed Ceiling mounting. Adjustable bar hangers adapt housing for mounting in suspended ceiling.