Resident Evil: Extinction (DVD, 2008, Widescreen Special Edition)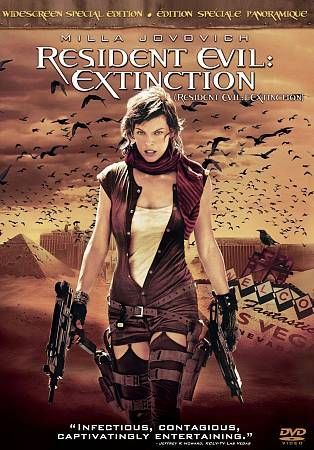 Resident Evil: Extinction (DVD, 2008, Widescreen Special Edition)
Item specifics
Condition:
Good :
Seller Notes:
"

This item is in good working order with only normal signs of wear and tear form previous owner. See photos this is of actual item you will be receiving.

"
Genre:

Action/Adventure

Rating:

R

Leading Role:

Milla Jovovich

Edition:

Special Edition, Widescreen

Director:

Russell Mulcahy

Special Features:

Cult

Format:

DVD

Former Rental:

No

Release Date:

01/01/2008

UPC:

043396243835
Detailed item info
It's three years after the action of RESIDENT EVIL: APOCALYPSE, and the world has turned to desert in this third film based on the now-classic video game RESIDENT EVIL. Survivors of the zombie-making T-virus are few and far between, but Alice (Milla Jovovich) treks her way across the desolate landscape, fending off zombies and fighting the Umbrella Corporation. Not only is the company responsible for the virus and the state of the world, but their experiments also turned Alice into a super-human fighting machine. She reunites with Carlos (Oded Fehr) and L.J. (Mike Epps) when she joins with a caravan of people led by Claire Redfield (Ali Larter, HEROES). Together, the band battles the undead as they make their way to the promised safety of Alaska.The zombies of RESIDENT EVIL: EXTINCTION have more in common with the fast-moving fiends of 28 DAYS LATER than with the lumbering creatures of George Romero's classic NIGHT OF THE LIVING DEAD. However, this film doesn't limit itself to human zombies; instead, there's horror to be found in undead dogs and crows. But none of these are any match for Jovovich's Alice. Whether clad in chaps and short shorts or a slinky red dress and boots, Jovovich is dressed to kill as she takes down the zombie hordes with a lethal combination of guns, knives, and a powerful pair of legs. Just as in ULTRAVIOLET and THE FIFTH ELEMENT, the actress has perfected the role of the dangerous beauty, and this film's blend of butt-kicking action and horror-movie scares provides the perfect opportunity for her to shine.


Product Details
Edition: Canadian; Special Edition
Number of Discs: 1
Film Country: USA
UPC: 043396243835
Additional Details
Genre:
Action/Adventure
Format:
DVD
Display Format:
Canadian; Special Edition
3 stars out of 5 -- "[A]dding great production values, well directed action, mean 'n' moody Milla and a satisfying finale equals decent Friday night fodder."
Ultimate DVD - Jason Caro (04/01/2008)


Portions of this page Copyright 1981 - 2014 Muze Inc.

All rights reserved.