Road Trip (DVD, 2000, Unrated Version)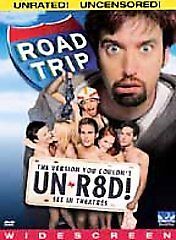 Road Trip (DVD, 2000, Unrated Version)
Item specifics
Condition:

Good

:
Seller Notes:
"

This item is in good working order with only normal signs of wear and tear form previous owner. See photos this is of actual item you will be receiving.

"
Genre:

Comedy

Release Date:

12/19/2000

Leading Role:

Breckin Meyer, Tom Green, Seann William Scott

Rating:

Unrated

Director:

Todd Phillips

Region Code:

DVD: 1

Format:

DVD

Edition:

Unrated Edition, Widescreen

UPC:

667068711127
Detailed item info
University of Ithaca College freshman Josh (Breckin Meyer) misses his childhood sweetheart, Tiffany (Rachel Blanchard), who is going to school in Austin, Texas. Josh makes a tape proclaiming his love for her, but one of his friends accidentally mails the wrong tape; he instead sends the tape of Josh having sex with the beautiful Beth (Amy Smart). Josh had slept with Beth only after assuming that Tiffany had found someone else. So Josh, E.L. (Seann William Scott), Rubin (Paulo Costanzo), and Kyle (DJ Qualls), the geek with a car, set off in a powder blue Ford Taurus to intercept the tape before Tiffany can see it. They leave behind the insane Barry (Tom Green), who is on the multiyear graduating plan and would rather stay in the dorm and feed a live mouse to Mitch the snake. The group's 1,800-mile trip will feature encounters with exploding cars, crazy motel clerks, too-hip grandparents, stealing from the blind, the wrong fraternity, and that old stand-by, chef's revenge. The story is told in flashback, as the always frightening Tom Green leads a group of prospective students and their parents through an absurdly hilarious tour of the Ithaca campus, selling Josh's story as a reason to attend the school. ROAD TRIP is good raunchy fun, starring a likable cast of characters, told by director Todd Phillips with a charm that places it above the standard teen exploitation flick.


Product Details
Edition:
Unrated Version
Number of Discs:
1
Rating:
Unrated
Film Country:
USA
Features:
Letterboxed
Sound:
Stereo Sound, Surround Sound
UPC:
667068711127
Additional Details
Genre:
Comedies
Format:
DVD
Display Format:
Unrated Version
"...The fun is all in the gags....you'll laugh despite yourself..."
New York Times - Stephen Holden (05/26/2000)

"...A wild, whacked-out ride....Green is a unique talent..."
Rolling Stone - Peter Travers (06/08/2000)

"...It's very funny, it's rambunctious and it's unabashedly sexy....Green could easily become the next Jim Carrey..."
Box Office - Mike Kerrigan (07/01/2000)

"...ROAD TRIP is consistently funny....Smartly produced and consistently lively, the film shows its young actors to terrific advantage..."
Los Angeles Times - Kevin Thomas (05/19/2000)

"...The dialogue is crisp, the pace is good and the scenery pretty..."
Total Film - Cam Winstanley (11/01/2000)


Portions of this page Copyright 1981 - 2014 Muze Inc.

All rights reserved.