The Elder Scrolls V: Skyrim (Microsoft Xbox 360, 2011)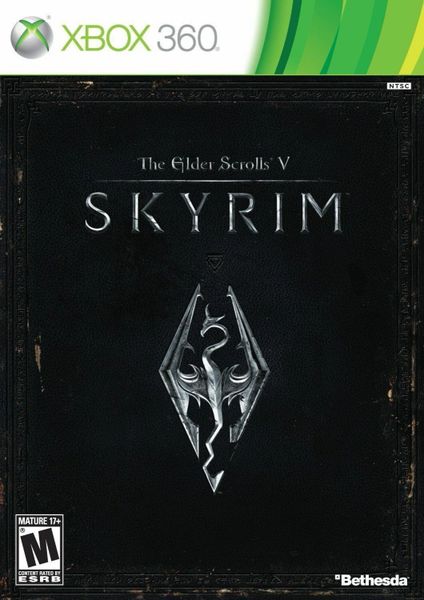 The Elder Scrolls V: Skyrim (Microsoft Xbox 360, 2011)
This item is used but in good working order with only normal signs of wear and tear form previous owner.
See photos these are of actual item you will be receiving.
Item specifics
Condition:
Used: An item that has been used previously. The item may have some signs of cosmetic wear, but is fully operational and functions as intended. This item may be a floor model or store return that has been used. See the seller's listing for full details and description of any imperfections.
The Elder Scrolls V: Skyrim (Microsoft Xbox 360, 2011)
Platform: Microsoft Xbox 360
Game Name: The Elder Scrolls V: Skyrim    Release
Year: 2011
Publisher: Bethesda
Rating: M - Mature
MPN: 11763
Genre: Role Playing
About this product
Product Information
Bethesda's flagship fantasy role-playing series returns to Xbox 360 with a new storyline and more detailed, open-world environment. Taking place centuries after the events chronicled in 2006's Oblivion, the game finds the continent of Tamriel in chaos after the High King of Skyrim is found murdered. Yet political turmoil is only the beginning of the problems. Dragons, long believed to be a relic of the past, are now flying across the lands and threaten to tear away the fabric of civilization in one fell swoop.
You are Skyrim's last hope, a descendent of the fabled Dragonborn, who can speak the language of dragons and channel their mystical powers after slaying them. The main quest involves discovering why the dragons have returned, but as with previous games in the Elder Scrolls series, you are free to embark on your own adventures. There are five major cities in Skyrim, each home to a different culture and way of life, and an estimated 500 distinct places of interest. The publisher claims the game offers 300 hours of content for those looking to explore every nook and cranny in the 3D world.
You can adapt your male or female hero to fit your playing style, whether it's hacking and slashing at creatures directly, slinging arrows from the cover of darkness, or casting powerful spells. There are hundreds of pieces of equipment and weapons to find or purchase, allowing you to mix and match shields, staves, swords, and spells to suit your needs. Defeating enemies earns you experience that can be used to level up attributes in three key areas: magica, health, and stamina.
A new graphics engine brings the province of Skyrim to life with surging rivers, rolling clouds, changing weather, and more varied terrain at different elevations. The interface features a more minimalistic scheme than what was used in Oblivion, and the number of voice actors has increased to offer more diversity in the speaking roles. Quests include more dynamic elements, and dragons will appear randomly throughout your travels, giving you the option to flee or to stand your ground and fight.
Product Identifiers
Publisher: Bethesda
Game: The Elder Scrolls V: Skyrim
Key Features
Platform: Microsoft Xbox 360
ESRB Rating: M - Mature
Genre: RPG
Location: USA
Tech Details
ESRB Descriptor: Blood and Gore, Intense Violence, Sexual Themes, Use of Alcohol
Number of Players: 1
Release Year: 2011
Game Series: The Elder Scrolls Series
Game Special Features: -Dual wield weapons and/or magic -Explore over 150 hand-crafted dungeons -Unlock words of power from the souls of conquered dragons -Customize weapons and armors through enchantments -Increase your proficiency at skills with repeated use
-All pictures are of the actual item(s) you will receive, not stock photos. Please look carefully at all pictures & ask any questions before purchasing.
-Please contact us immediately if there are any issues once you receive the item(s) and we'll do our best to remedy the situation. Note: Electronics with tampered security stickers will NOT be accepted.
-Note: We do not refund shipping costs. We do not charge a handling fee; all money payed for shipping goes to USPS, FedEx, UPS, etc. and not to us. Please purchase accordingly.
To save on shipping, local pick-up by winner is always welcomed. We are open Tue-Fri from 10:00AM to 6:00PM Sat 11:00AM to 3:00PM for pickups.