Tribeca Sons of Anarchy Earbud Headphones For iPhone MP3 palyer FVA7459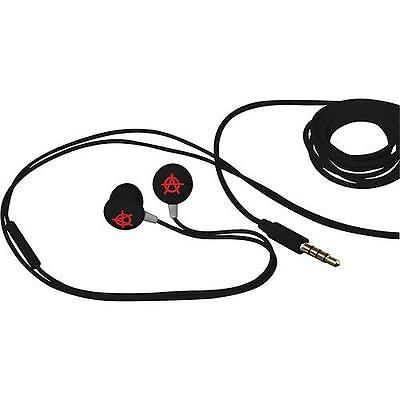 Tribeca Sons of Anarchy Earbud Headphones For iPhone MP3 palyer FVA7459
New Page 1
ITEM FOR SALE
Tribeca Sons of Anarchy Earbud Headphones For iPhone MP3 palyer FVA7459 
PRODUCT DESCRIPTION
Comes In Original Packaging, Excellent Physical& Working Condition.
Functions Fully as Expected.  
 
SAMCRO styling for your tunes. This smartphone-compatible headset features comfortable silicone earbuds and an in-line microphone + remote for taking calls and adjusting playback. Red Anarchy "A" symbol on each earbud. Earbuds (audio out) compatible with most computers and portable media players (devices supporting 3.5mm standard); microphone compatible with devices supporting open 3.5mm standard, including iPhone.


- In-line microphone and remote control playback and phone calls
- Works with most smartphones including iPhone, Android, Blackberry models
- Compact and perfect for travel
- Sons of Anarchy Logo on each earbud
- Stereo sound