X2: X-Men United (DVD, 2003, 2-Disc Set, Widescreen)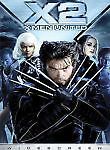 X2: X-Men United (DVD, 2003, 2-Disc Set, Widescreen)
Item specifics
| | | | |
| --- | --- | --- | --- |
| Condition: | | Genre: | Sci-Fi & Fantasy |
| Format: | DVD | Leading Role: | Hugh Jackman, Patrick Stewart, Halle Berry, Ian McKellen |
| Release Date: | 11/25/2003 | Director: | Bryan Singer |
| Rating: | PG-13 | UPC: | 024543091974 |
Detailed item info
X2: X-MEN UNITED, the remarkable sequel to X-MEN, picks up shortly after the first film's finale. At the White House, a would-be assassin--the acrobatic, teleporting blue mutant Nightcrawler (Alan C******)--menaces the president. Meanwhile, in the Canadian Rockies, Wolverine (Hugh Jackman) searches for answers to his mysterious past at the top-secret facility where he received his metallic skeleton and claws. Back at Xavier's School for Gifted Youngsters, Jean Grey (Famke Janssen) and Storm (Halle Berry) instruct students Rogue (Anna Paquin), Iceman (Shawn Ashmore), and Pyro (Aaron Stanford), while Professor Xavier (Patrick Stewart) and Cyclops (James Marsden) pay a visit to the imprisoned Magneto (Ian McKellen). However, Magneto has a secret weapon in the shape-shifting Mystique (Rebecca Romijn-Stamos). Soon allies and enemies alike will unite to defeat the hate-filled military scientist William Stryker (Brian Cox), who wants to rid the world of mutants. When Stryker launches a ruthless two-pronged attack that leaves the school under siege and Xavier and Cyclops captured, Wolverine and the remaining X-Men must spring to action to save their friends and prevent all-out genocide.Even better than its excellent precursor, X2 delves deeper into the X-Men mythology, introducing new characters and touching on essential storylines from the decades-long run of the Marvel comic book series. Providing larger action-packed set pieces and more advanced special effects, director Bryan Singer further develops the characters of Jean Grey, Storm, Nightcrawler, Rogue, Iceman, Pyro, and Mystique. Each member of the cast breathes vitality into their mutant characters with Wolverine, perfectly portrayed by Jackman, once again the wild heart at the center. A love letter to longtime fans of the comic and an amazingly entertaining movie for everyone else, X2: X-MEN UNITED is that rare breed of sequel that manages to improve on the original in every way.


Product Details
Edition:
Widescreen 2-Disc Set
Number of Discs:
2
Rating:
PG-13 (MPAA)
Film Country:
USA
UPC:
024543091974
Additional Details
Genre:
Science-Fiction/Fantasy
Format:
DVD
Display Format:
Widescreen 2-Disc Set
"...A symphony of crescendos and pauses, orchestrated toward a big seat-rattling climax, during which an enormous dam breaks, veins bulge on both villainous and heroic brows, and a lot of computer-generated images pop, wiggle and shimmy to the throb and roar of John Ottman's music..."
New York Times - A. O. Scott (05/02/2003)

"...The cast is full of actors who are fun to watch..."
USA Today - Mike Clark (05/02/2003)

"...It lives in the present, providing one amazing spectacle after another..."
Chicago Sun-Times - Roger Ebert (05/02/2003)

"...Hugh Jackman is again in fierce, lupine form as Wolverine..."
Rolling Stone - Peter Travers (05/29/2003)

...No other film-maker has better dramatised superpowers in action and yet remembered the human cost of all the trickery. X2 is full of double-edged power fantasies that manage a frisson of awe amid the excitement..."
Sight and Sound - Kim Newman (06/01/2003)

"...X2 is 2 good to be 4-gotten. Brisk and involving with a streamlined forward propulsion....One of the unexpected aspects of X2 is the way its concerns seem to be uncannily relevant today..."
Los Angeles Times - Kenneth Turan (05/02/2003)

"...It's shiny pop art with an arch, cultured heart underneath..."
Movieline's Hollywood Life - Daniel Davis (11/01/2003)

"...It's in the quieter, more dramatic moments that the sequel really gets under the skin..."
Total Film - Dan Jolin (12/01/2003)

"Full of incident..."
Uncut - Leslie Felperin (12/01/2003)


Portions of this page Copyright 1981 - 2014 Muze Inc.

All rights reserved.